PROJECT: BLOGGERS DESIGN FOR LA MILLOU!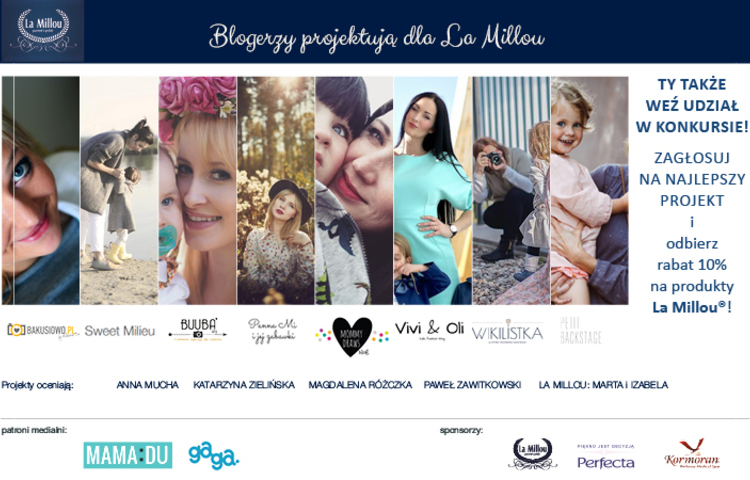 La Millou starts with new project! We invite artists who distinguish by their style and personality for several years to cooperate in creation of special collections.
Among them are Anna Mucha, Magdalena Rozczka and soon Katarzyna Zielinska. Now it's time for blogging mothers!
We have chosen 8 special mothers who chronicle their life in the blogosphere. Each of them is special and unique.
They are distinguished by an interesting style and unique personality. They all love their children and good design over their life.
Now THEY will design patterns, and the best of them will go into production later this summer!
The contest is to design graphics for the new collection of La Millou by bloggers.
WHO HAS FUN AND WHAT IS TO WIN?
The fun is not only for participants of the project, but also is for you!
In addition to the collection signed with the name of the winner or the name of the blog the winner will receive a money reward in amount of 5000 PLN and also a great family weekend in a unique place.
Their works will be judged by our Jury.
and by you! You also can vote and influence on our collection!
You also can vote for your favourite designer on the sub-page of the contest from 10 June to 10 July.
Every day you can cast one vote. To thank you for your time, we have prepared a discount in 10% on one-time purchases on our website www.lamillou.com for each voting person
Dears, we invite you to have a common fun – Bloggers design for La Millou!